Panasonic FP0R PLC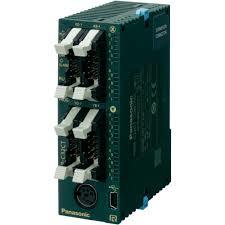 Panasonic FP0R PLC
Price And Quantity
Product Specifications
Industrial

90 Millimeter (mm)
-10 to 40 Celsius (oC)

100-220 Volt (v)
Product Description
Our customers stand to benefit from the advanced features of the FP0R control units.
Ultra high-speed processing enhances productivity
An ultra high speed of 0.08s/step for basic instructions for the first 3000 steps and 0.58s/step thereafter. The FP0R is ideal for positioning and process automation applications, e.g. in labeling machines.
Large programming capacity of 16k or 32k steps
Generous data register of up to 12k or 32k words
Independent comment memory
USB2.0 port provides high-speed program transfer
The new F-type FP0R provides maintenance-free and complete backup of all data without requiring a battery. Industry's first!
Highly advanced, built-in positioning functions
- Jog operation
- Individual settings for acceleration and deceleration for ramp functions
- Target speed can be changed by an external signal input during jog operation or trapezoidal control
- Can read encoder signals of up to 50kHz (pulse frequency measurement)
- 6-channel high-speed counters and 4-axis pulse outputs can be used simultaneously
FP0R units provide various kinds of networking communication using a built-in interface or expansion units
- Ethernet (Modbus TCP/IEC60870)
- Profibus
- CC-Link
- MEWNET-W0
- C-NET
- RS232C or RS485 serial communication
Model No.

AFP0RC10RS
AFP0RC10CRS
AFP0RC10MRS
AFP0RC14RS
AFP0RC14CRS
AFP0RC14MRS
AFP0RC16P
AFP0RC16T
AFP0RC16CP
AFP0RC16CT
AFP0RC16MT
AFP0RC16MP
AFP0RC32P
AFP0RC32TC
AFP0RC32CP
AFP0RC32CT
AFP0RC32MT
AFP0RC32MP
AFP0RT32CP
AFP0RT32CT
AFP0RT32MT
AFP0RT32MP
AFP0RF32CP
AFP0RF32CT
AFP0RF32MT
AFP0RF32MP
AFP8670
FP0-SL1
FP0RE8RS
FP0RE8YRS
FP0RE16RS
FP0-E32RS
FP0RE8X
FP0RE16X
FP0RE8YP (PNP)
FP0RE8YT (NPN)
FP0RE16P (PNP)
FP0RE16T (NPN)
FP0RE16YP (PNP)
FP0RE16YT (NPN)
FP0RE32P (PNP)
FP0RE32T (NPN)
FP0-A21
FP0-A04I
FP0-A04V
FP0-A80
FP0-TC4
FP0-TC8
FP0-RTD6
FP0-TC4
FP0-TC8
FP0-RTD6
FPWEB2
FPWEBEXP
FP0-DPS2
FP MODEM-56K
FPG-DPV1-M
FPG-DEV-M
FPG-CAN-M
AFPS35510
FPG-DPV1-S
FPG-DEV-S
FPG-CAN-S
Trade Information
Yes

Sample costs shipping and taxes has to be paid by the buyer